Gutter Guard Installation Services
Our job is to help keep your gutters debris-free! Book Gutter Guard Installation Services
Overflowing gutters are not a good look for your business! When leaves and debris collect in your gutters they restrict the flow of water, which can end up flooding over your gutter and ruining flow beds, causing dry rot or other damage, and obstructing access to your building.
At Northbay Maintenance, we install unique gutter guards with stainless steel micro-mesh that better protect your gutters from this dirt and debris. Our experienced team will choose the right gutters for a low-maintenance gutter system for your office, storefront, or commercial property.
Our Gutter Guard Installation Services
In addition to our gutter guard cleaning services, we can install the right gutter guard for your building. Gutter guards keep 99% of all dirt and debris out of your gutters, but with many brands, small debris like needles and bugs can still slip through. That's why we use a unique stainless steel micro-mesh to stop debris in its tracks. All gutter guard installation services ensure that:
The unique micro-mesh system will let water pass through, but will stop even the smallest sand, dirt, and pine needles from passing through.
Instead of cleaning your gutters monthly or quarterly, installing quality gutter guards means you only need to check them bi-annually or annually for routine maintenance.
It's guaranteed for 40 years
Our gutter guards come with a 40-year product guarantee against defects (that's how confident we are in these guards).
My gutters are leaking can you fix those?
Yes our teams can help fix, seal and patch any cracks or leaks in your gutters.
I've had gutter guards installed but they didn't work, how will this be different?
Most of the gutter guards people have installed are the cheap plastic or metal ones with extremely large holes. The issue is those large holes catch everything and within 3 months they've filled up and become plugged. The gutter guards we use are micro-mesh so they won't even let something as fine as pine needles or shingle sand through.
Is there an ROI on gutter guards?
Yes! Our gutter guards are designed to save you money in the long run. Most of our clients see a ROI and total cost savings within 2-4 years due not having to pay as much for gutter cleaning and doing it less often.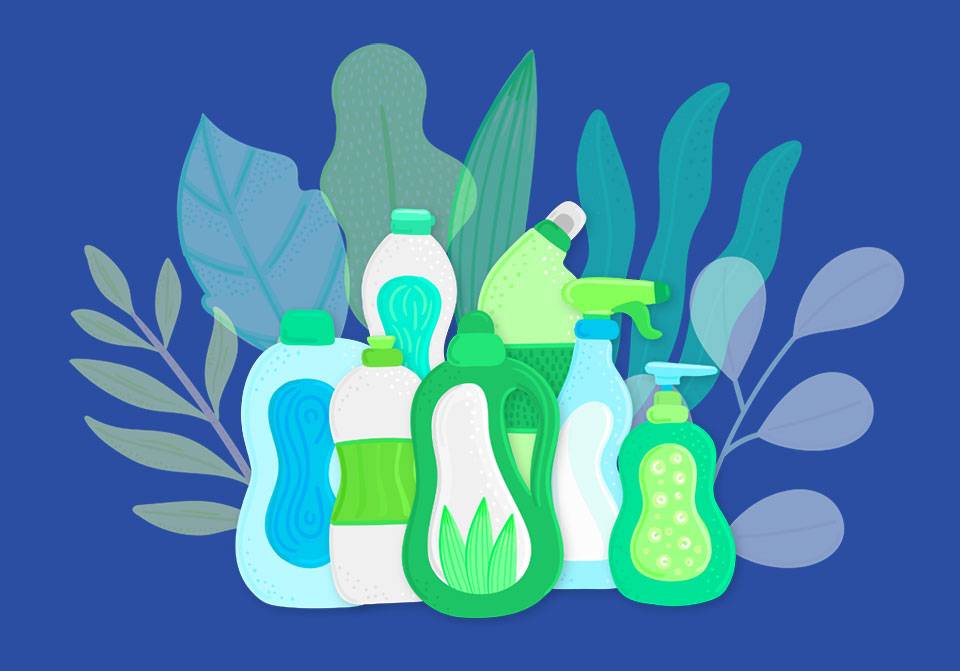 Our Eco-Friendly Advantage
All our installation services and products are as environmentally friendly as possible. We love the Bay Area so much and want to see its natural beauty preserved for generations to come, so we're doing our part today. If you have questions about our environmental codes of conduct, ask away!
You focus on building your business…let us clean the gutters.
We always recommend adding gutter maintenance to your annual building maintenance schedule. When you have gutter guards installed, your maintenance will be minimal but it is still a necessary step to extend the life of your gutter guards and roof.
The Northbay Maintenance Difference
We believe that no cleaning or maintenance project is the same. So, we take the time to get to know you and your business to best understand exactly what cleaning and maintenance services will benefit you the most, especially when it comes to gutter guard installation and products. We will look at your building and location and recommend the best guards to minimize regular maintenance as much as possible.
We are a trusted leader in the gutter guard installation in Northern California. Our dedicated team of professionals will safely and efficiently install your gutter guards so you don't have to lift a finger, except to call us to book your on-site appointment.
You focus on building your business…let us clean the gutters.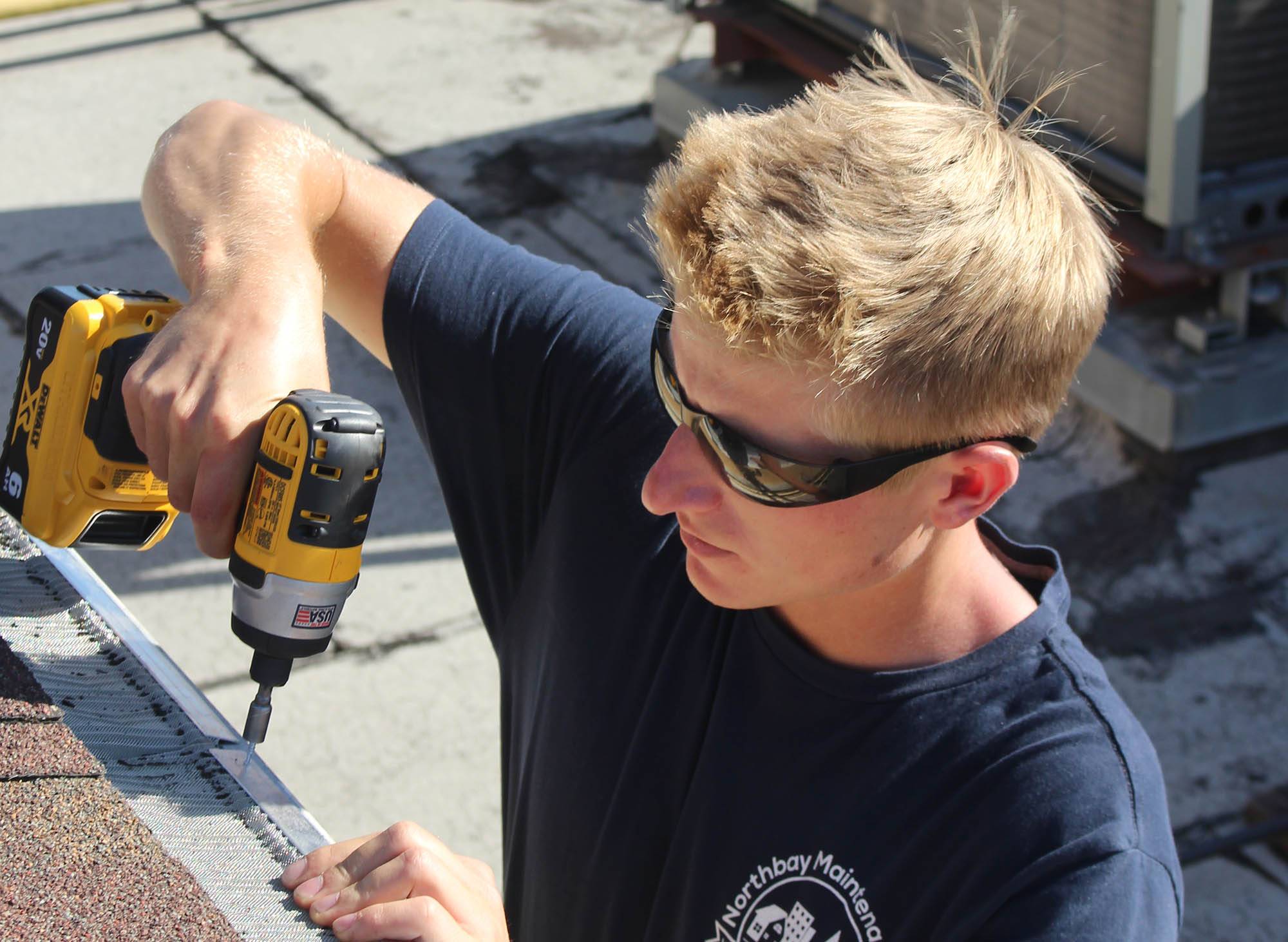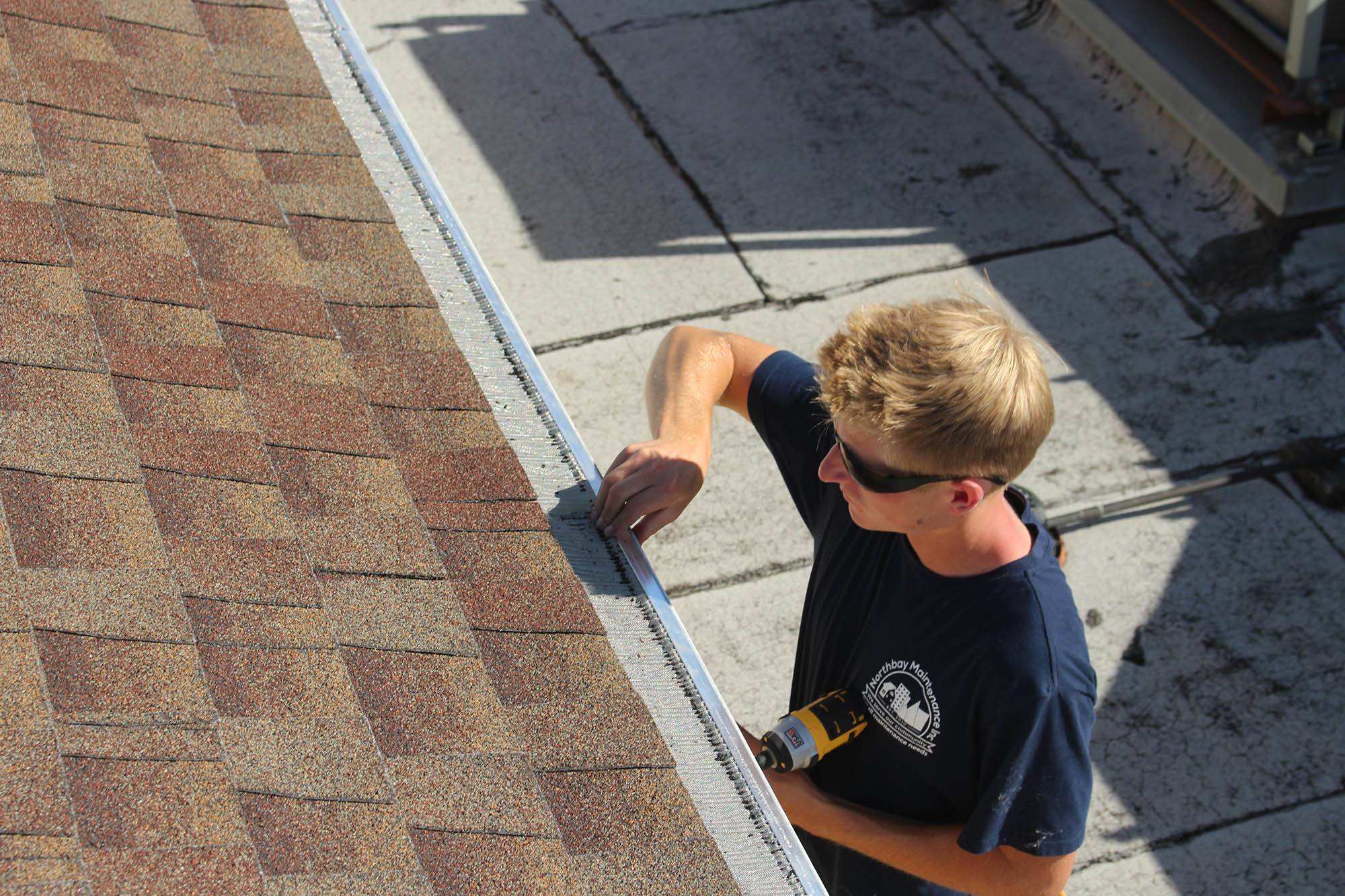 How We Simplify Your Life
You have enough to deal with in your life. When working with Northbay Maintenance we aim to simplify your cleaning and maintenance schedule. We even make it easy to book us with our hassle-free 4-step process:
Tell us about your cleaning and maintenance needs
Expect a proposal within 2 days. If you need it faster just let us know and we can turn it around quickly.
Sit back and leave the project to us
Enjoy your cleaned home or business!